FILTER BY:
when you buy a light the way™ candle3
This year's limited-edition aroma features
certified organic vanilla, cinnamon and ylang
ylang from Madagascar, where we've helped
fund water systems for 10,000 people.4
One candle, one service, one style at a time. Let's raise $6.5M togther. #avedacleanwater
REVIVE YOUR STYLE
WITHOUT WATER

Love your non-wash hair.
Try these 3 easy looks: Looped braid, Effortless waves, Romantic ponytail.
THE NATURAL
PAIR FOR
NON-WASH
DAY HAIR
shampure™ dry shampoo & NEW thermal dry conditioner
97% naturally derived1
GOOD FOR YOU
GOOD FOR THE EARTH
Save $21 on shampoo and $26 on conditioner6—and use less plastic7—with smooth infusion™ litres than with regular-size bottles. Save with all litres.
NEW cooling balancing oil concentrate instantly cools skin and massage in to help melt away tension. 100% naturally derived1
WE'VE RAISED
$50 MILLION TOGETHER
Thanks to people like you and amazing Aveda professionals around the world, we've help fund thousands of local and global environmental organizations, and helped more than 900,000 people gain access to clean drinking water.5
NEW aveda men pure-formance™
thickening paste
Easy styling. Flexible hold.
Made for men.
Used for centuries to keep hair healthy in India, amla fruit in thickening paste thickens each strand from roots to ends—instantly.
IMPROVE THE LOOK
OF THINNING HAIR
with invati men™
4 out of 5 men say their hair feels stronger and looks thicker.2
Aveda Men 5-Minute Natural Grey Blending.
Our new service for men lasts up to 4 weeks.

"Aveda Men 5-Minute Natural Grey Blending works more like a stain by adding depth and integrity to the hair color for a natural look. Because grey is blended instead of completely covered, it allows the hair to grow out naturally. The result is low-maintenance, natural-looking color that keeps the hair in great condition."
KURT KUEFFNER, AVEDA ARTIST
WAKE UP TO
WEDDING DAY SKIN
EVERY DAY
NEW tulasāra™
wedding masques overnight
97% naturally derived1
the haldi ceremony from India

A pre-wedding tradition in which a homemade turmeric paste is applied to the bride and groom for glowing skin on their wedding day. Our masques beautify you the same way, every day.

haldi means turmeric in Sanskrit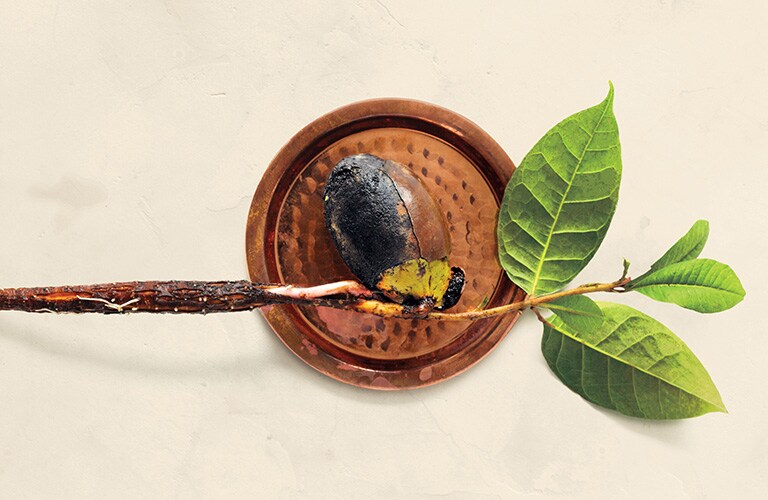 Our purchase of nangai oil for split end repair reflects our mission of caring for the Earth and those who call it Home. It gives Melip and Mbonvor villagers on Malekula Island who gather the nangai nuts an additional source of income— and we funded water projects for them. We're also nuts about how nangai oil helps repair split ends—and we think you will be, too.
1From plants, non-petroleum minerals or water.

2In a 12 week consumer test.

3Supports Global Greengrants Fund water-related project.
4$119,410 of the proceeds from candles between 2009 and 2012 ($12 suggested retail price), went to multiple water systems supporting over 10,000 residents of Manakara, Madagascar.
5Through Global Greengrants Fund water-related projects since 2007
6Savings are based on SRP per oz. When you purchase 1 litre of shampoo and conditioner you save $47 ($21+$26) vs. purchasing the amount in standard retail sizes.
7Comparing one litre to same amount in standard retail size